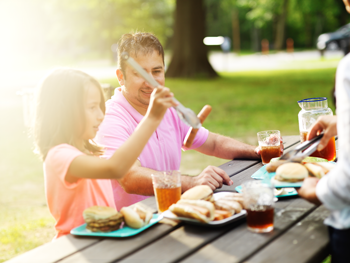 The Kendal Community Centre and it's grounds are a blank canvas for your next outdoor event. Transform this rural quaint hall into the venue of your dreams. With a large area of grounds your next outdoor event will be great. We boast 2 baseball diamonds for your enjoyment(check for availability).  Whether you are choosing to host your next family picnic or outdoor event you will be sure to make special memories with family and friends.
We also have a large hall for your event or smaller rooms for the events such as bridal showers, meetings etc. We're proud to offer a state-of-the-art kitchen, wheelchair accessibility and ample parking.
Maximum Capacity: 150 People
Wheelchair Accessible: Yes
Parking: Yes, on-site
Tables are 6'Rectangle – Seats 6 Per Table
Bar Room
Podium
Facilities and Parking
A fully functioning kitchen is available for your preferred caterer.
Includes 2 commercial ovens with grill, double fridge, steam table, dishes/cutlery, coffee urns and commercial dishwasher.
Ladies/Men's/and Family Accessible washrooms off the main hall.
Community Centre Parking lot available for your event.
No slides are available in this gallery